Event Detail
---
Leptokarya - Litochoro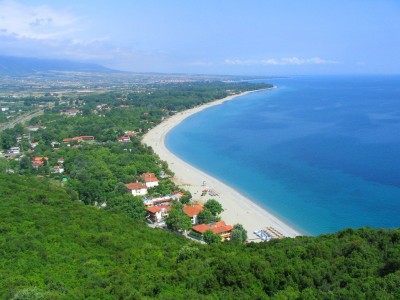 II International Folklore Festival "Ethno Fest Leptokarya - Litochoro"
Date: 23 – 27 May, 2018
Location: Leptokarya – Litochoro, Greece
Location:
Leptokarya is a town in Pieria in the Macedonia Region of Greece. Lies on the coast of Aegean Sea, under the Mount Olympus. The surrounding area is the mythological residence of the ancient Greek pantheon. Leptokarya is also a Beach which has been awarded the Blue Flag, certifying its excellent waters.
Litochoro is a small modern town with a population of 7000 inhabitants located at the foothills of Mount Olympus just 5km from the sea. It combines the cool of the mountain air with the sea breeze and visitors can walk around the lanes between the traditional houses with the Macedonian architecture, the old wooden courtyard doors and the gabled roofs, work of Litochoro wood turners and stonemasons.
Participants:
Folk dance ensembles, vocal groups, musical orchestras.
Age:
All ages.
Preliminary Program:
The first day: arrival of the groups at destination after 12 o'clock, accommodation, meeting with groups' leaders, free time, dinner.
The second day: breakfast, free time, the possibility of excursions, dinner.
The third and fourth day: breakfast, free time, evening performance, dinner. Dinner will be served before or after the performance, depending on the time of performance of each ensemble. Performances of the groups will be defined in the final program of the festival, which will be sent to all participants on time.
The fifth day: breakfast, leaving the accommodation, returning of the groups to their point of departure.
The possibility of extension of stay.
Participation fee:
99 EUR per person in 3* hotels (4 half boards).
Each 26th person - FREE OF CHARGE (25 paying + 1 free of charge).
Drivers are included in total number of persons.
Any group that wants to participate in the festival should fill in the Application form. Approved groups pay in advance 20 EUR per person as reservation, which is to be deducted at the final payment. The sender covers all bank taxes. The rest of participation fee the groups can also pay by bank transfer or when arrive to the festival.
If the group cancels participation in the festival less than 5 days before the festival the reservation expenses are not refundable.
Participation fee includes:
Invitation letter
Participation in the festival
Organization expenses
Diplomas and souvenirs
English speaking guide for participating groups
Participation fee does not include:
Transport expenses (if the group comes by airplane, the organizer of the festival could arrange a bus during the festival at the cost of the group)
Insurance
Local transfers
Facultative tours
All kinds of drinks that are not included in the half board
All other expenses not mentioned in the program of the festival
Damage that participants make during the festival
Very important:
If you are interested in participating in the festival, please fill in the Application form as soon as possible. Also, you should provide us with the history of your group, 3 - 5 photos and a video clip or link where we can see performances of your group. It is necessary that all approved groups bring to the festival the flag of their country and the board with the name of the group. During the festival, participants will have 1 or 2 performances. All groups must provide their own music, orchestra or USB/CD.
All participants of the festival must have their own international health insurance. Each group leader is responsible for the behavior of his group in accordance with the hotel policy and program of the festival and all damages during the festival will be at the cost of the group.
The organizer of the festival reserves all rights to video and photos of all participants. Also, the organizer reserves the right to any changes in the program, and participants will be informed on time. By applying you confirm that you accept all festival conditions.
II Međunarodni festival folklora "Etno fest Leptokarija - Litohoro"
Datum: 23 – 27. maj 2018. godine
Lokacija: Leptokarija – Litohoro, Grčka
Organizacija festivala: Mega Art – SM i Cosmopolis Travel
Lokacija
Leptokarija, poznato letovalište u podnožju mitske planine Olimp. Poznata je po dugoj peščano-šljunkovitoj plaži i kristalno čistoj vodi (najbistrija na području Pierie). Nekada ribarsko selo, danas moderno tipično grčko mesto, sa gostoljubivim domaćinima.
Litohoro je malo planinsko mesto sa tradicionalnom grčkom atmosferom, u podnožju planine Olimp. U središtu mesta je trg sa fontanom, Agios Nikolaos crkva sa zvonikom, iza koje je park sa spomenikom, letnja pozorišna scena i dečije igralište. U ovom gradiću kamenih uličica, brojnih kapelica, dominira grčka makedonska arhitektura.
Učesnici festivala:
Folklorni ansambli, horovi, grupe pevača, muzički orkestri.
Uzrast:
Sve kategorije.
Okvirni program:
Prvi dan: dolazak na destinaciju posle 12h, smeštaj, sastanak sa vođama grupa, slobodno vreme, večera.
Drugi dan: doručak, slobodno vreme, mogućnost izleta, večera.
Treći i četvrti dan: doručak, slobodno vreme, večernji nastup, večera.Večera će se služiti pre ili posle nastupa, u zavisnosti od termina nastupa svakog ansambla. Nastup ansambala na festivalu biće definisan programom festivala, koji će se blagovremeno dostaviti svim učesnicima.
Peti dan: doručak, napuštanje hotela i povratak kući.
Mogućnost produžetka boravka.
Participacija:
99 € po osobi u hotelu sa 3* (4 polu pansiona)
svaka 26. osoba - BESPLATNO
pozivno pismo i učešće na festivalu, obezbeđuje se uplatom rezervacije u iznosu od 20 € po osobi, što je uračunato u ukupnu cenu (u dinarskoj protivvrednosti po prodajnom kursu Vojvođanske banke na dan uplate), na dinarski račun koji dostavljamo po prijavi za učešće, koju možete popuniti ovde.
u slučaju odustajanja, u roku kraćem od 5 dana pre početka festivala, troškovi rezervacije se ne vraćaju.
Participacija uključuje:
pozivno pismo
ušešće na festivalu
organizacione troškove
diplome, plakete
vodiča za svaku grupu koja učestvuje u festivalu
U cenu nisu uključeni:
troškovi prevoza (mogućnost pomoći oko organizacije prevoza na zahtev grupe)
troškovi putnog osiguranja (mogućnost pomoći oko regulisanja putnog osiguranja)
lokalni transferi
fakultativni izleti
sve vrste pića i druga vanpansionska potrošnja
svi ostali troškovi koji nisu pomenuti u programu festivala
šteta koju učesnici naprave tokom trajanja festivala
Važno:
Ukoliko ste zainteresovani za učešće na festivalu, molimo vas da što pre pošaljete popunjenu prijavu. Pored prijave, potrebno je da nam dostavite istorijat vaše grupe, 3-5 fotografija i video klip ili link na kome se vidi nastup grupe. Učesnici festivala su dužni da ponesu zastavu svoje zemlje, kao i tablu sa nazivom grupe koju predstavljaju. Tokom trajanja festivala učesnici će imati1 ili 2 nastupa. Poželjno je da svaka grupa dođe sa svojim orkestrom ili da obezbedi CD/USB sa muzikom za svoj nastup. Sva prava na video materijal i fotografije, zadržava organizator festivala.
Svaki učesnik festivala mora biti osiguran. Svaki vođa grupe odgovoran je za ponašanje svoje grupe u skladu sa pravilima objekta u kom su smešteni i programom festivala.
Organizator zadržava prava na određene promene, a učesnici festivala će biti o tome na vreme obavešteni. Prijavom potvrđujete da prihvatate uslove festivala.