Event Detail
---
Belgrade Choir Fest 2019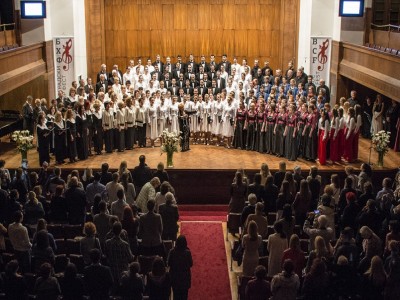 III BELGRADE INTERNATIONAL CHOIR FEST
Date: 2 – 5 May, 2019
Location: Belgrade, Serbia
Organization: Milo Radoman, Saša Bajić
Location
Belgrade is the capital and largest city of Serbia, situated at the place where the river Sava joins the Danube. It is one of the oldest cities in Europe and one of the greatest urban centers of the Balkan Peninsula. Belgrade is the capital of Serbian culture, education and science and offers plenty of historical sites and cultural and artistic events. Beautiful places for walking and recreation are very famous as well as vibrant nightlife of Belgrade.
Rules and criteria
Belgrade International Choir Fest is dedicated to mixed choirs, female and male choirs.
Age of participants is 16+. There is no limit to the number of singers.
The organizers maintain the right to limit the number of choirs if too many apply.
Choirs will have the opportunity to present themselves to the audience during the two festival days. At the closing ceremony, each choir will perform one composition of their own choice, and all the choirs together will perform a composition chosen by the organizers, for which the arrangements will be provided by the festival organization.
The program of each participating choir should not be longer than 30 minutes and it is desirable to perform in their repertoire one composition from their country of origin. The repertoire of choirs can include secular, sacred compositions of contemporary and old composers.
At the closing ceremony of the festival each choir will have the opportunity to present the program up to 10 minutes and at the end of the concert all choirs together will perform a composition chosen by the organizers – "Festival Hymn".
Application conditions
With the application form you should send us:
Choir's CV
Choir Conductor's CV
Up-to-date photos of your choir
Video or link on YouTube where we can see your performances
Participation:
89 Euro per person - Hostels (3 half boards - catering)
104 Euro per person - Hotels 3* (3 half boards, rooms with 2,3 or 4 beds)
124 Euro per person - Hotels 4* (3 half boards, rooms with 2 or 3 beds)
Each 26th person - FREE OF CHARGE (25 paying + 1 free of charge)
Drivers are included in total number of persons.
Approved groups pay in advance 30 € per person as reservation, which is to be deducted at the final payment. The sender covers all bank taxes. The rest of participation fee the groups can pay when arrive to the festival. If the group cancels the participation on the festival less than 5 days before the festival starts, the reservation expenses will not be refunded.
The arrangement price includes:
Invitation letter,
Participation in the festival,
Organization expenses,
Diplomas and souvenirs,
English speaking guide for participating groups.
The arrangement price does not include:
Transport expenses (if the group comes by airplane, the organizer of the festival could arrange a bus during the festival at the cost of the group),
Insurance,
Local transfers,
Facultative tours,
All kinds of hospitality expenses that are not included in the full board,
All other expenses not mentioned in the program of the festival,
Damage that participants make during the festival.
Very important
If you are interested in participating in the festival, please send e-mail to info@megaartsm.com as soon as possible.
All participants of the festival must have their own international health insurance. Each group leader is responsible for the behavior of his group in accordance with the hotel policy and program of the festival and all damages during the festival will be at the cost of the group.
The organizer of the festival reserves the rights to video and photos of all participants. Also, the organizer reserves the right to any changes in the program, and the participants will be informed on time. By applying you confirm that you accept all festival conditions.
Detailed program of Belgrade International Choir Fest will be sent to participants.
III BEOGRADSKI MEĐUNARODNI HOR FEST
Datum: 2 – 5. maj 2019. godine
Lokacija: Beograd, Srbija
Organizacioni odbor festivala: Milo Radoman, Saša Bajić
Lokacija
Beograd je glavni i najveći grad Republike Srbije, smešten na ušću reke Save u Dunav. Jedan je od najstarijih gradova Evrope, a ujedno i jedna od najvećih urbanih celina na Balkanu. Kao sedište obrazovanja, kulture i umetnosti Srbije, Beograd nudi pregršt istorijskih znamenitosti i kulturno- umetničkih dešavanja. Nadaleko su poznata prelepa mesta za šetnju i rekreaciju, kao i vrlo aktivan noćni život Beograda.
Kriterijumi i pravila
Beogradski međunarodni hor fest posvećen je mešovitim, ženskim i muškim horovima. Donja granica uzrasta učesnika je 16 godina, a broj pevača nije ograničen.
Organizatori ostavljaju sebi pravo da ukoliko se prijavi veliki broj horova ograniče broj koji će nastupati.
Horovi će imati priliku da se tokom festivala predstave publici sa više nastupa. Na završnom koncertu Beogradskog međunarodnog hor festa svaki hor nastupiće sa po jednom kompozicijom po sopstvenom izboru, a zajedno sa ostalim učesnicima festivala izvešće zadato delo za koju će im organizator dostaviti note.
Program horova učesnika sa kojim će se predstaviti publici ne treba da bude duži od 30 minuta i poželjno je da u svom repertoaru izvedu jedno delo zemlje iz koje dolaze. Repertoar horova može da obuhvati svetovna, duhovna dela savremenih i starih kompozitora.
Završni koncert festivala okupiće sve horove učesnike i svaki hor će imati priliku da izvede program u trajanju do 10 minuta iz svog repertoara, a na kraju zadatu kompoziciju, "himnu" festivala.
Uslovi prijave:
Pored prijave za učešće, potrebno je poslati:
CV hora,
CV dirigenta,
Noviju fotografiju hora, i dirigenta,
Noviji video klip ili link na kome se vidi nastup hora.
Participacija
89 evra po osobi - Hosteli (3 polupansiona – ketering)
104 evra po osobi - Hoteli 3* (3 polupansiona, dvokrevtne, trokrevetne i četvorokrevetne sobe)
124 evra po osobi - Hoteli 4* (3 polupansiona, dvokrevtne i trokrevetne sobe)
svaka 26. osoba - BESPLATNO
pozivno pismo i učešće na festivalu obezbeđuju se uplatom troškova rezervacije u iznosu od 30 € po osobi, na devizni ili dinarski račun, koje dostavljamo po prijavi za učešće, koju možete poslati na info@megaartsm.com . Uplatilac snosi troškove bankarskih transakcija. Ostatak iznosa može se uplatiti najkasnije po dolasku na festival. U slučaju odustajanja, u roku kraćem od 5 dana pre početka festivala, uplata troškova rezervacije se ne vraća.
Za horove iz Srbije koji žele da učestvuju u programu festivala, participacija iznosi 200 € u dinarskoj protivvrednosti.
Participacija uključuje:
pozivno pismo,
ušešće na festivalu,
organizacione troškove,
diplome, suvenire,
vodiča za svaku grupu.
U cenu nisu uključeni:
troškovi prevoza (mogućnost pomoći oko organizacije prevoza na zahtev grupe),
troškovi putnog osiguranja (mogućnost pomoći oko regulisanja putnog osiguranja),
lokalni transferi,
fakultativni izleti,
sve vrste pića i druga vanpansionska potrošnja,
svi ostali troškovi koji nisu pomenuti u programu festivala,
eventualna šteta koju učesnici naprave tokom trajanja festivala.
Važno
Ukoliko ste zainteresovani za učešće na festivalu, molimo vas da što pre pošaljete mejl na info@megaartsm.com .
Svaki učesnik festivala mora biti osiguran. Svaki vođa grupe odgovoran je za ponašanje svoje grupe u skladu sa pravilima objekta u kom su smešteni i programom festivala. Ukoliko učenici festivala naprave neku štetu tokom festivala, troškove će snositi njihova grupa.
Organizator zadržava prava na video material i fotografije.
Organizator zadržava prava na određene promene, a učesnici festivala će biti o tome na vreme obavešteni. Prijavom potvrđujete da prihvatate uslove festivala.
Detaljan program Beogradskog međunarodnog hor festa biće poslat učesnicima festivala.